Peterson BTS50 Stand-Alone Blower Unit
Overview
With a Peterson BTS50 Stand-Alone Blower Unit, you can tackle an even wider range of projects, gain productivity, and boost your profitability.
The BTS50 is available in two models, the standard BTS50 is powered by a CAT C7.1 Tier IV engine with 225 hp (167 kW), or the BTS50+, with a CAT 9.3B Tier IV engine with 335 hp (250 kW) for heavy-duty applications such as delivering light aggregate materials.
With the stand-alone power plant, the BTS50 allows you to blow material while moving the truck, which is ideal for jobs that require lots of repositioning. The BTS50's blower unit is rated at 15 psi (1.03 bar) for typical applications of mulch or compost materials. The BTS50+ has a 20 psi (1.38 bar) blower unit, and is specifically designed for tough-to-blow applications.
Applications
Mulch

Astec machines can help you create, screen, stack, and deliver your final mulch product. We'll help you add value to your mulch products and services from your feedstock all the way to delivery.

Learn More

Compost

Compost is organic matter that has been decomposed and may be made from single source material or blended for specific application performance. Materials used include: garden debris, kitchen scraps, manure, or yard and lawn waste.

Learn More

Playground Chips

Playground material and engineered wood fiber is can be created with Peterson grinders or chippers and pneumatically delivered with Peterson blower trucks.


Learn More
Features
Easy Maintenance

A series of drive chains keep the auger and tines moving steadily. Bolt on tensioners and centralized greasing provide easy maintenance.

Air Stream Injection System

Evenly distribute seeds or fertilizer directly into the material mix. A tackifier can be added for efficient erosion control applications.

High Capacity Blower

Our high capacity Tri-Lobe blower provides increased airflow and production. Larger five-inch diameter hoses can blow materials that could plug smaller hoses.

Side-Opening End Gate

The side-opening end gate on Peterson blower trucks and stand-alone blower units, provides easy access to the feed system allowing for easier and safer maintenance.
Dimensions
BTS50
BTS50+
Operating Length
1224 cm
1224 cm
Operating Width
259 cm
259 cm
Operating Height
406 cm
406 cm
Loading Height
389 cm
389 cm
Stand Alone Unit Length
942 cm
942 cm
Frame Length
815 cm
815 cm
Box Length
665 cm
665 cm
Box Width
246 cm
246 cm
Box Height
257 cm
257 cm
Box Volume, Struck
37 m3
37 m

3

Box Volume, Typical
34 m

3

34 m

3

Axle Spacing
137 cm
137 cm
Tool Box
152 cm
152 cm
Dimensions
BTS50
BTS50+
Operating Length
40' 2"
40' 2"
Operating Width
8' 6"
8' 6"
Operating Height
13' 4"
13' 4"
Loading Height
12' 9"
12' 9"
Stand Alone Unit Length
30' 11"
30' 11"
Frame Length
26' 9"
26' 9"
Box Length
21' 10"
21' 10"
Box Width
8' 1"
8' 1"
Box Height
8' 5"
8' 5"
Box Volume, Struck
48 yds3
48 yds

3

Box Volume, Typical
45 yds3
45 yds

3

Axle Spacing
54"
54"
Tool Box
60"
60"
| Weight | BTS50 | BTS50+ |
| --- | --- | --- |
| Weight with Typical Options | 21 546 kg | 22090 kg |
| Box Only Weight | 12 474 kg | 13 018 kg |
| Weight | BTS50 | BTS50+ |
| --- | --- | --- |
| Weight with Typical Options | 47,500 lbs | 48,700 lbs |
| Box Only Weight | 27,500 lbs | 28,700 lbs |
| Truck Platform | BTS50 | BTS50+ |
| --- | --- | --- |
| Chassis | any Class 8 | any Class 8 |
| Standard Chassis | Peterbilt 567 | Peterbilt 567 |
| Cab Configuration | Driver Bucket Seat & 2-Person Bench Seat | Driver Bucket Seat & 2-Person Bench Seat |
| Truck Platform | BTS50 | BTS50+ |
| --- | --- | --- |
| Chassis | any Class 8 | any Class 8 |
| Standard Chassis | Peterbilt 567 | Peterbilt 567 |
| Cab Configuration | Driver Bucket Seat & 2-Person Bench Seat | Driver Bucket Seat & 2-Person Bench Seat |
| Power | BTS50 | BTS50+ |
| --- | --- | --- |
| Engine | Caterpillar C7.1 Tier IV 167 kW | Caterpillar C9.3B Tier IV 250 kW |
| Fuel Tank Capacity | 435 L | 435 L |
| Hydraulic Tank Capacity | 314 L | 314 L |
| DEF Tank Capacity | 65 L | 65 L |
| Power | BTS50 | BTS50+ |
| --- | --- | --- |
| Engine | Caterpillar C7.1 Tier IV 225 hp | Caterpillar C9.3B Tier IV 335 hp |
| Fuel Tank Capacity | 115 gal | 115 gal |
| Hydraulic Tank Capacity | 83 gal | 83 gal |
| DEF Tank Capacity | 17 gal | 17 gal |
| System Controls | BTS50 | BTS50+ |
| --- | --- | --- |
| Peterson Adaptive Feed System | | |
| Radio Remote | | |
| System Controls | BTS50 | BTS50+ |
| --- | --- | --- |
| Peterson Adaptive Feed System | | |
| Radio Remote | | |
| Feed System | BTS50+ | BTS50+ |
| --- | --- | --- |
| Floor | Stainless Steel Walking Floor | Stainless Steel Walking Floor |
| Wear Liners | Hardox 450 Steel | Hardox 450 Steel |
| Blower System | BTS50+ | BTS50+ |
| Blower | Tri-Lobe® | Tri-Lobe® |
| Blowing Pressure | 20 psi | 1.38 bar |
| Large Capacity Silencer | Intake and Discharge | Intake and Discharge |
| Feed System | BTS50 | BTS50+ |
| --- | --- | --- |
| Floor | Aluminum Walking Floor | Stainless Steel Walking Floor |
| Wear Liners | Aluminum | Hardox 450 Steel |
| Blower System | BTS50 | BTS50+ |
| Blower | Tri-Lobe® | Tri-Lobe® |
| Blowing Pressure | 15 psi | 20 psi |
| Large Capacity Silencer | Intake and Discharge | Intake and Discharge |
| Discharge System | BTS50 | BTS50+ |
| --- | --- | --- |
| Hose Reel | powered, holds up to 98 m | powered, holds up to 98 m |
| Discharge Hose Length | 6 m heavy-duty, 91 m standard | 6 m heavy-duty, 91 m standard |
| Hose Diameter | 127 mm, 100 mm | 127 mm, 100 mm |
| Discharge System | BTS50 | BTS50+ |
| --- | --- | --- |
| Hose Reel | powered, holds up to 320 ft | powered, holds up to 320 ft |
| Discharge Hose Length | 20 ft heavy-duty, 300 ft standard | 20 ft heavy-duty, 300 ft standard |
| Hose Diameter | 5", 4" | 5", 4" |
| Production | BTS50 | BTS50+ |
| --- | --- | --- |
| Discharge Volume | up to 46 m³ per hour | up to 46 m³ per hour |
| Material Weight | up to 1245 kg/m³ | up to 1601 kg/m³ |
Actual output may vary due to moisture content, material density and size, support equipment, terrain variables, and hose diameter'
| Production | BTS50 | BTS50+ |
| --- | --- | --- |
| Discharge Volume | up to 60 yds³ | up to 60 yds³ |
| Material Weight | up to 2,100 lbs/yd³ | up to 2,700 lbs/yd³ |
Actual output may vary due to moisture content, material density and size, support equipment, terrain variables, and hose diameter'
Media Gallery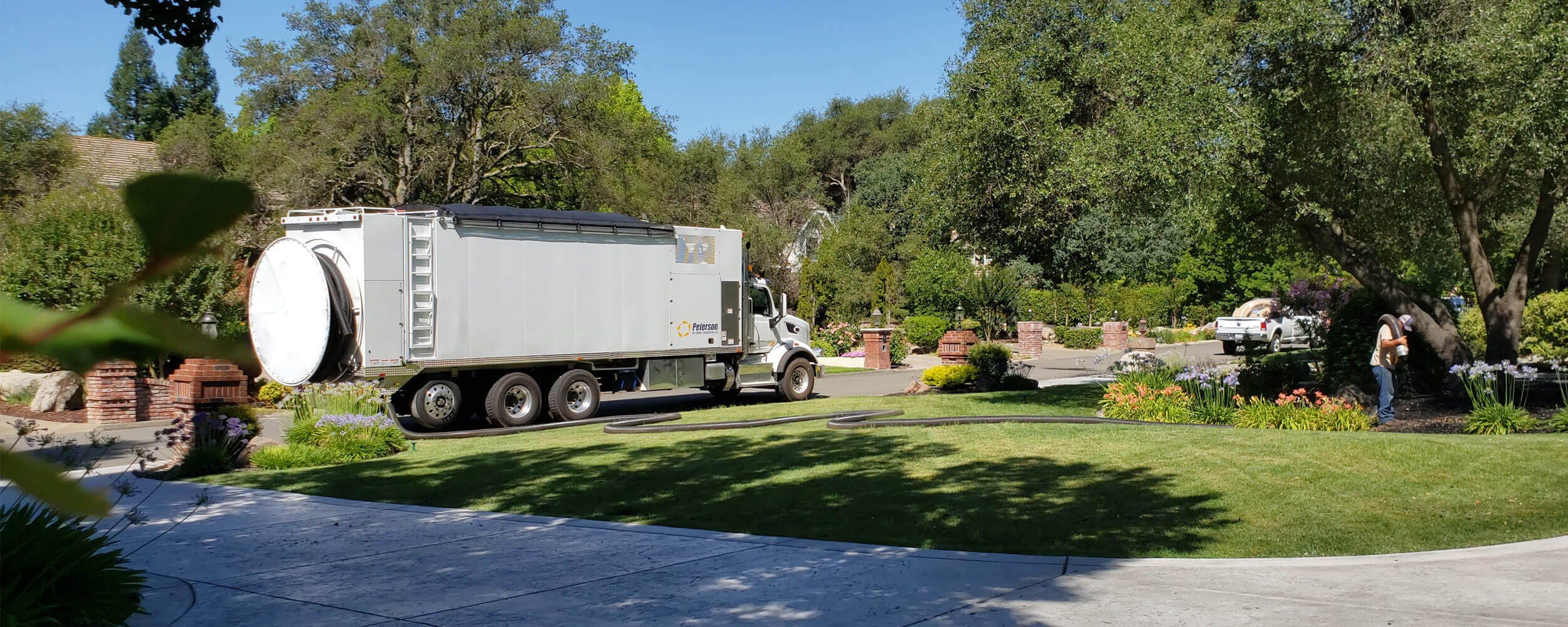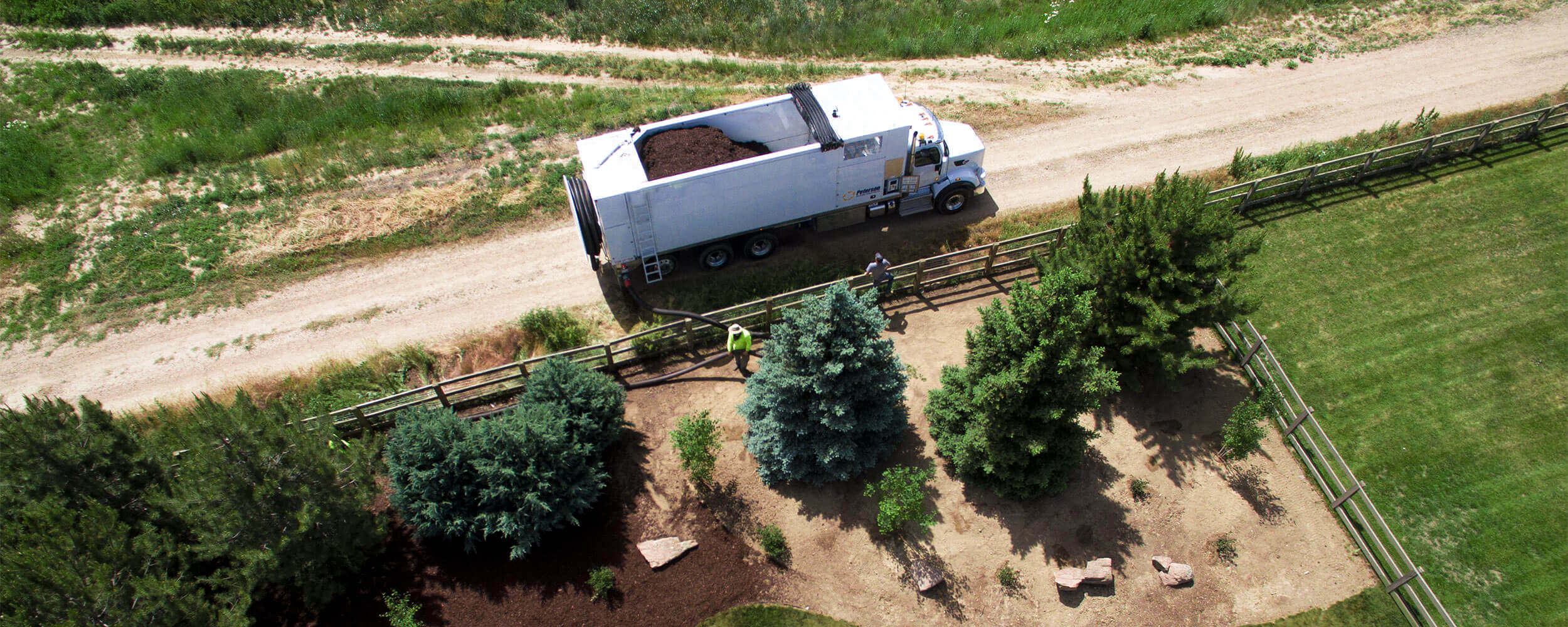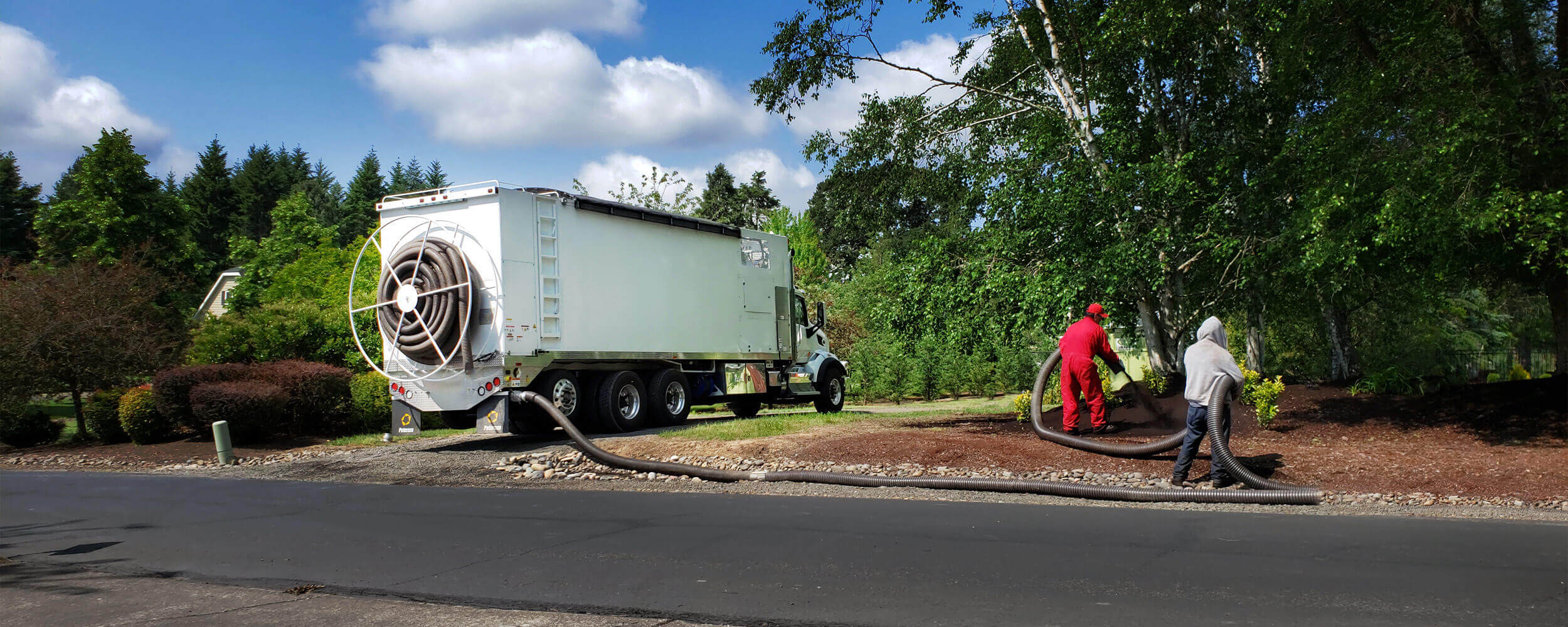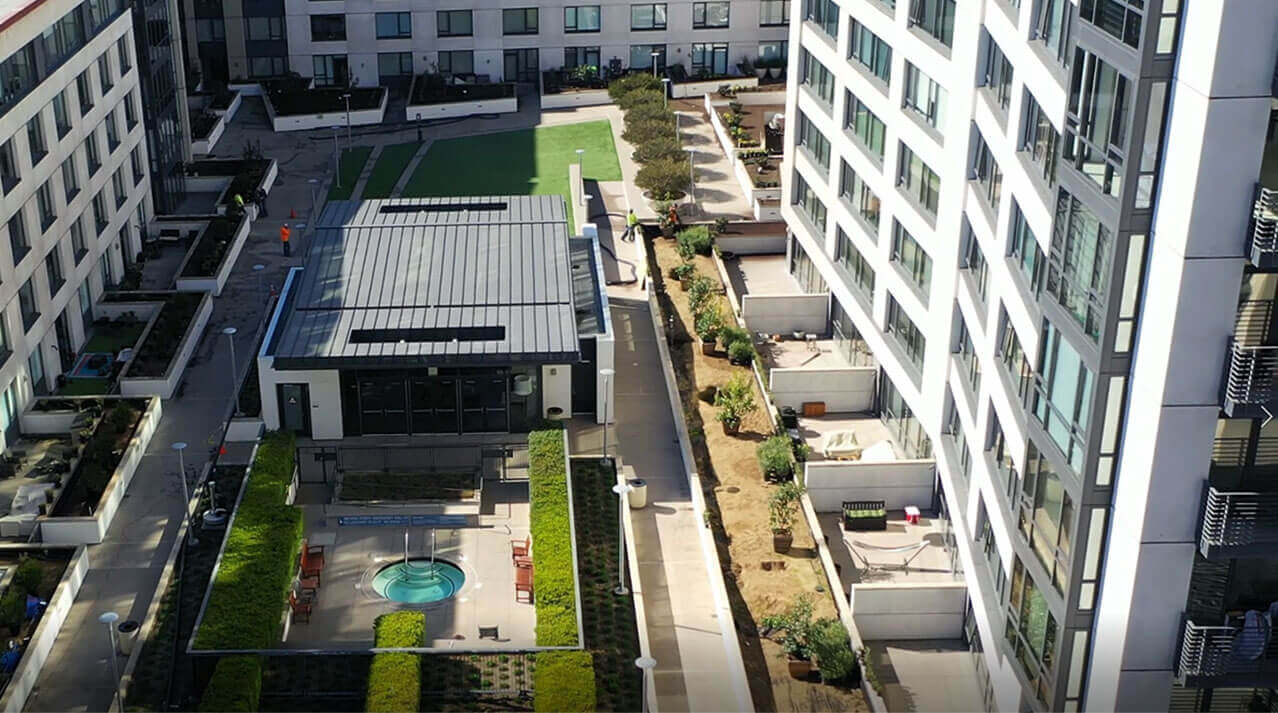 Can be mounted to any Class 8 Truck

Blow mulch, playground chips, compost, animal bedding, light aggregates, soil

48 yds³ (37 m³)