Astec Industries Debuts New Generation of RP Pavers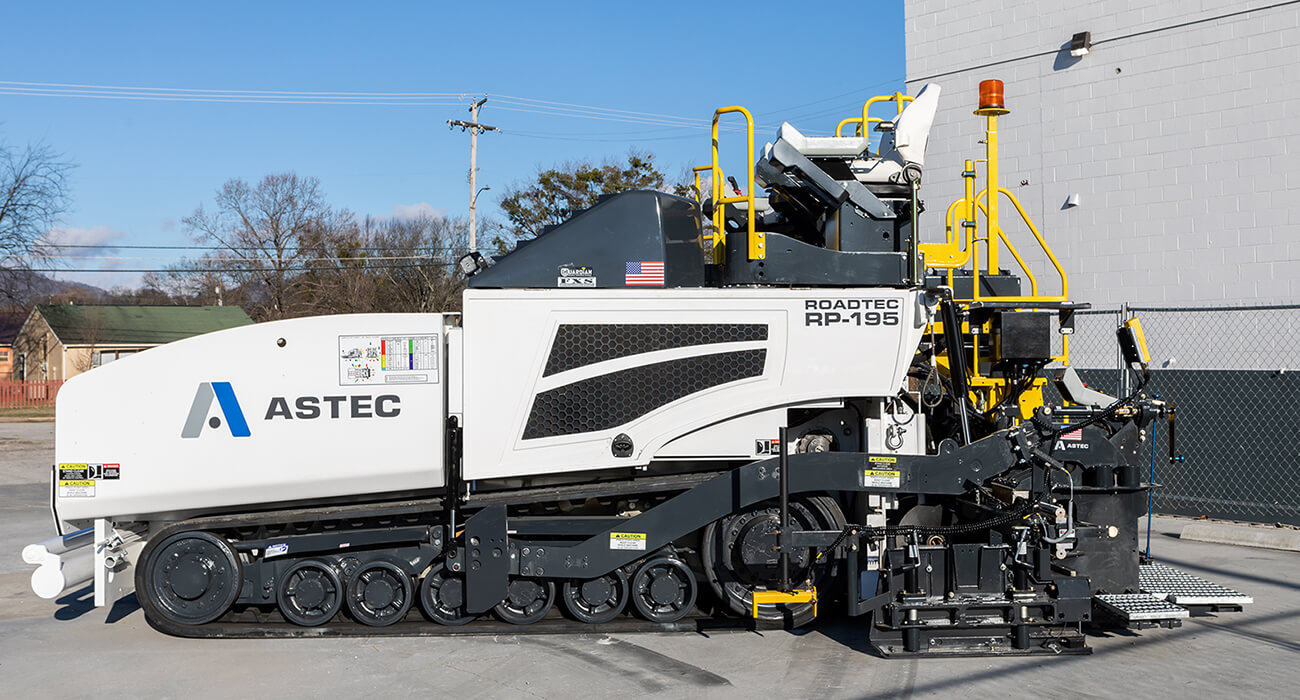 CHATTANOOGA, Tenn., MARCH 14, 2023
- Astec Industries is debuting its newest highway class asphalt paver at CONEXPO-CON/AGG in Las Vegas, Nevada. The
RP-175
and
RP-195
F series track pavers have upgraded styling, simpler maintenance and enhanced operator experience.
Keith Hagy, product manager-paving for Astec says, "When we begin any project, determining what the customer needs is the key. Our customers told us we have always been open and honest with their feedback, and we take it to heart." The company focused on efficiency, durability and operator comfort achieved through modern styling, solid castings and innovative reconfigurations.
For example, new lightweight hoods make accessing daily maintenance areas quick and easy, with no need for hydraulics. Hagy explains, "We've transitioned to a composite design with our side doors and hoods. Now one person can easily raise the hood and access the engine area without any need for extra hydraulics."
Additionally, the upgraded models feature a new cooling system, which makes the paver run quieter and more efficiently. "We've gone from a single fan cooling system to a dual system, moved to the top of the machine, blowing away from the operator and away from the ground crew."
Hagy says, "Noise reduction is important. A quieter machine improves communication among the screed person, the operator and the ground crew, which is critical on a work site." The new pavers also feature repositioned and redesigned handrails for enhanced safety and comfort.
The overall design of the paver has been transformed and updated to enhance the operator's experience. Controls have easy-to-use switches, joysticks and touchscreens, each designed to put all the control at the operator's fingertips. Hagy explains, "With our new touchscreen controls you can easily view your daily production data. You also have a much more ergonomic setting with all the key functions at your fingertips."
The comfort and safety features do not impede the robustness of the new design. The new F-model series has a State V engine, meeting the most stringent emission limitation required in the global market. Hagy said, "With the RP-175 we've upgraded to an engine block that is smaller and more compact, but still provides the same commanding torque and horsepower."
The
RP-175
and
RP-195
have a redesigned track system for improved durability and ease of maintenance. When it comes to hydraulics, the new track pavers have fewer connection points, easing maintenance tasks. As with all Astec pavers, the
RP-175
and
RP-195
are offered with your choice of three Astec industry-leading Carlson screeds, each providing unmatched mat quality.
For more information, visit
https://www.astecindustries.com/road-construction/pavers-screeds
.