Astec BG Series Batch Plants
Overview
Not Available In USA or Canada
Originating from years of experience in the asphalt mixing field, the Astec BG series of modular batch plants promises sound performance paired with exceptional technology. The modular design of this compact plant assures set up ease and accommodates upgrades as your operation grows.

Modular Design
Easy Set-Up
Minimal Civil Works
Recycling 0-70%*
Multiple Options Available
• with additional drum options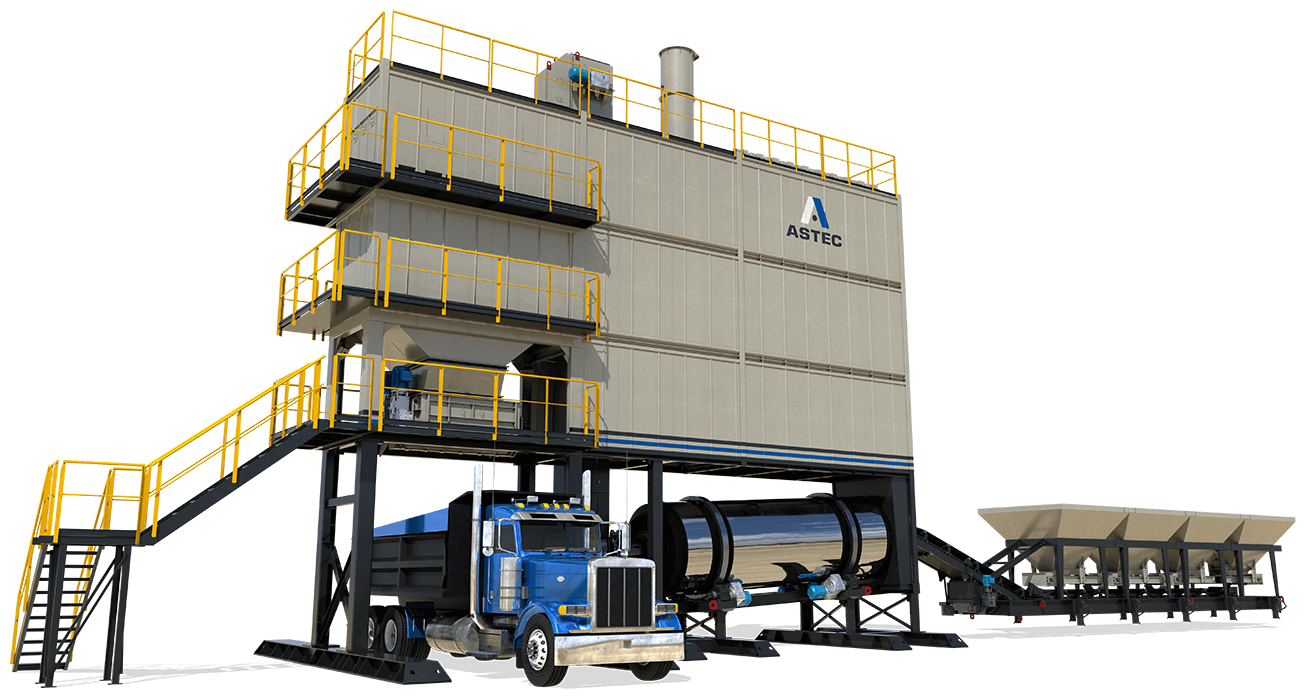 Applications
Asphalt Mixing

A thermal mixing process is required to turn aggregates and liquid AC into an asphalt pavement mix for road construction. This makes an asphalt mixing plant necessary for road construction. The complete line of Astec asphalt mixing plants, and its range of capacities and features, gives you the choices and flexibility to create your optimum solution.

Learn More

Recycled Asphalt Pavement

Recycled asphalt pavement (RAP) is asphalt paving material recovered from old road beds either by milling or excavation.

Learn More
Features
COUNTER FLOW DRYER DRUM

The powerful, well-balanced, high-efficiency drum is insulated and features Astec v-flights to enhance heat transfer into the aggregate. A single chassis supports the drying drum. The four-wheeled dryer drum drive is friction driven.




TWIN SHAFT PUGMILL

Mixing takes place in a 1800 kg mixer with synchronized double shafts. Specially-alloyed cast iron components are highly resistant to abrasion. Specially-designed tips and shanks ensure a homogeneous mix within a short span of time. A full-length discharge gate driven by an electro-pneumatic jack allows fast and complete emptying of the mixer.

Whisper Jet Burner

The Astec Whisper Jet total-air burner uses unique patented technology to burn cleanly and efficiently. A proven Astec design ensures best-in-class efficiency and performance. Pre-testing and wiring guarantees performance and delivery. Available in a variety of fuel firing combinations.

BG SERIES BAGHOUSE

The modular reverse pulse baghouse is fitted directly over the dryer to eliminate ductwork. The baghouse utilizes two-stage filtration with a primary collector which separates coarse material from the gas stream and protects the bags from abrasion. The dust-laden gas then enters the baghouse where the dust collects on the heat-resistant meta aramid bags. Pneumatically operated cylinders clean bags a row at a time. Collected dust can be stored or returned to the mix.




Recycle System

Reclaimed Asphalt Pavement (RAP) can be incorporated into mix via the dryer drum or through the mixer unit. When added via the dryer drum, the RAP is added to the aggregate in the drum through a RAP collar. When added via the mixer, RAP is fed into a surge hopper on the batching tower.

COLD FEED BINS

Cold feed bins are designed with steep walls and a self-relieving bottom to encourage smooth material flow. Variable speed drives, and no-flow sensors ensure easy operation, Optional grizzly bars are also avilable.

VIBRATING SCREEN

Driven by two vibrating motors, the multi-deck screening unit properly sorts aggregates into five different hot aggregate bins. A maintenance-free design eliminates the need for lubrication points, while an easy grid exchange system reduces the time and effort to change screens.

MODULAR EXPANDABLE DESIGN

Extra-large hot bins add an additional 30 tonnes of aggregate capacity.
Media Gallery