Introducing Astec Digital

In response to customer and industry demand, we are excited to announce Astec Digital, a single-vendor technology solution for the Rock to Road value chain.
The Astec Digital Mission is to create best-in-class solutions for our customers. Beginning with the acquisition of Grathwol Telematics and continuing with the acquisition of the MINDS Controls Platform of products, Astec has committed to growing and expanding its portfolio of digital solutions. Astec sees an opportunity to unite its existing Control Technology products with these recent acquisitions as Astec Digital.
Astec Digital meets the demands of the Rock to Road Industry by connecting and developing the best features from Astec Controls, MINDS and Grathwol.
Our Vision for Astec Digital:
Simplify and Standardize solutions for asphalt, concrete, aggregate and other fixed / moving equipment controls and telematics
Build solutions to span all our fleet
Allow optimization and data based Intelligent solutions
Enhanced training, support and customer experience
"The formation of the Astec Digital business unit positions us to build out a digital platform across our Rock to Road value chain of products. With this platform in place, Astec will be able to grow our digital offerings and execute on our goal to provide a simple, standardized digital solution to all our customers across the Rock to Road value chain."
~ Jaco van der Merwe, President and CEO Astec Industries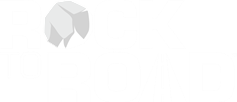 Astec Data Suite
With the new Data Suite, Astec is positioned to build out a digital platform across our integrated Rock to Road product portfolio. Our experience across the spectrum of Rock to Road business sectors provided the knowledge and resources to invest in industry-leading innovations that drive value for customers.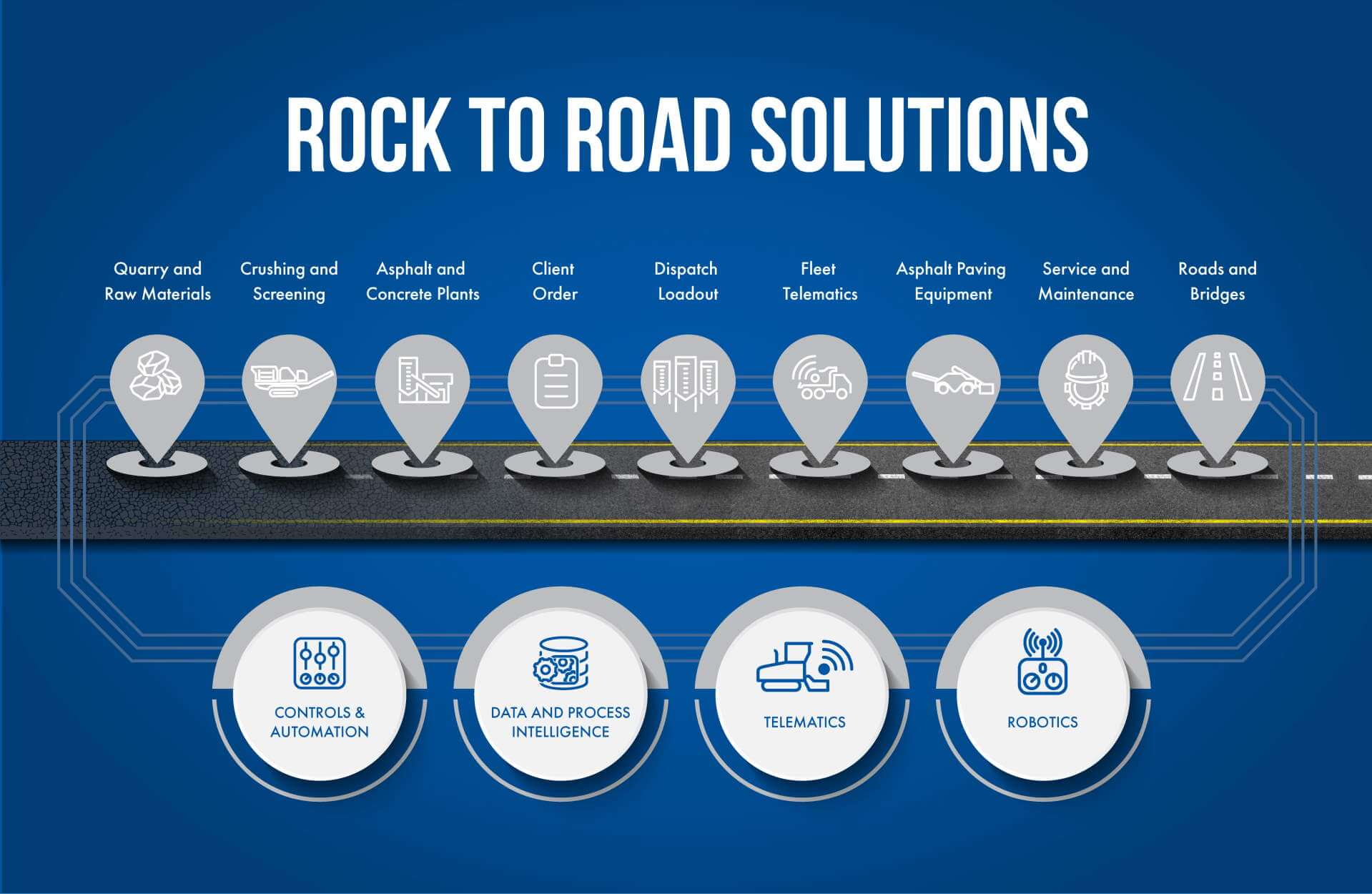 Scalable and customizable to suit your specific needs, our new breed of control systems combines the time-tested expertise of Astec software with the cutting-edge integration of the Minds platform. Reliable, configurable, and highly accurate, our
unified, user-centric platform
now includes highly intuitive graphic interfaces, remote access via modern mobile applications, dual workstation access, and more. The production-level data forms the foundation that flows up the pipeline to large-scope job/business management IT tools.
Highlights:
• Modular controls platform
• Vendor agnostic solution offerings
• Standard controls arch across the plants and fleet
Offerings:
• DrumTronic Controls dependable, accurate, reliable, and customizable for comprehensive total plant control
• BatchTronic Controls powerful and easy-to-use visual software combined with dedicated hardware
• Asphalt Blending Controls ideal for a simple bitumen and aggregates blending-only application
• Tank Terminal Controls monitor and control temperatures of liquids in storage tanks and levels of liquids in the tanks
• Emulsion and Modified Bitumen Controls handle all phases of emulsion production and storage
• Burner Controls multi-actuator, multi-fuel, precision burner control
• Loadout Controls manage loadout of material into trucks ready for delivery or load-in of material to transfer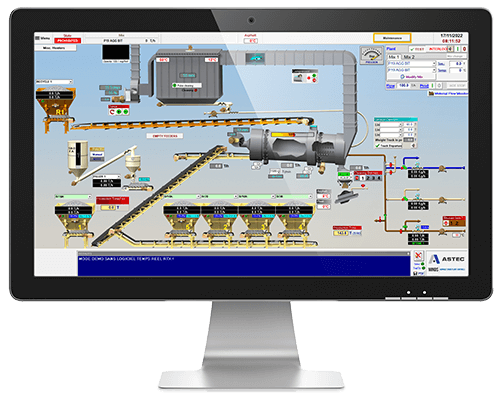 Our telematics systems allow service technicians and owners to protect their investment and keep operating costs low by monitoring a selected machine in real-time through a wireless signal, addressing any issues that may arise while the machine works. It also allows Astec customer service personnel to remotely view the machine in real time and be there for the customer anytime, anywhere. The engine, hydraulic and electrical systems, grade control, and GPS location are all monitored in detail.
Highlights:
• Mixed-fleet standard telematics offer common user interface
• Access critical data and key performance indicators
• Decrease expenses and keep mobile equipment in safe operating condition by staying on top of diagnostics
Offerings:
• Telematics & Equipment Diagnostics
• Telematics & Equipment Manager


Get the big picture of your operation with Astec
Data and Process and Intelligence products.
Multi-site plant management, enterprise-level ticketing, quality control, material usage and inventory, and performance metrics dashboards allow you to get critical information about your operations where you need it and when you need it. We are constantly innovating to offer the best solutions for plant managers, operators, and business managers.
Highlights :
• E-ticketing
• Invoicing
• Fleet Tracking
• Performance metrics dashboards provide operation visibility
• Optimization and data based Intelligent solutions
Offerings:
• LiveTank Monitor remote monitoring of liquid tank farms & heating
• LiveJob Monitor real-time data from your ticketing software
• Plant Operations Manager multi-plant dashboard
• Mix Quality Manager live dashboard with production run data
• LiveBin Monitor in-cab production dashboard for loaders
• Ticket Manager ticketing and management software
• Ticket Manager Enterprise
• Maintenance Manager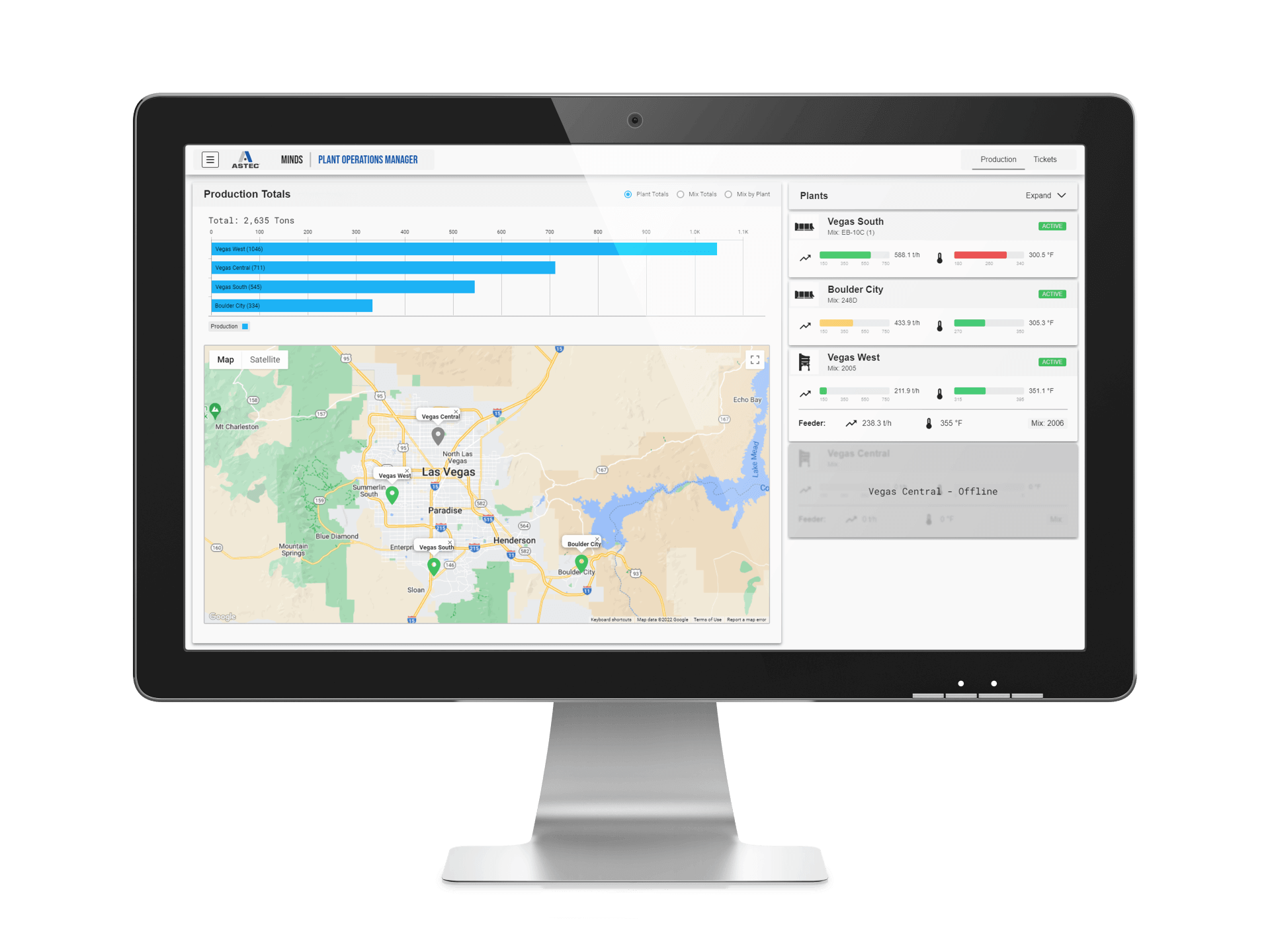 Our automation solutions enable safer and optimized operations through remote or robotic processes. Astec entered the robotics sector in 2016 with the SiloBot, a proprietary device that inspects the structural integrity of asphalt storage silos. As Astec has gained knowledge and experience in use of robotics, new applications are being identified and developed to bring even more value and resolution to inspection services.
Highlights:
• Robotic Inspection can access hard-to-reach areas
• Inspections are quick and can be performed at night to prevent conflicts with production schedules
• Inspections do not require personnel to enter a confined space, making it the safest available method
Offerings:
• SiloBot Inspection Service remote robotic inspection device for storage silos
• PlenumBot Inspection Service remote robotic inspection device for baghouse
SiloBot Inspection Service
Having trouble finding what you're looking for?

Search Now
Find your local dealer or representative

Where To Buy
Having trouble finding what you're looking for?

Search Now
Find your local dealer or representative

Where To Buy